Microsoft's crack at a dedicated laptop is officially not an experiment, with its sequel finally here – and it was posh enough to wear a black suit. That said, Microsoft hasn't done much to iterate on the platform to get a lot of mileage out of this time around.
From a massive power boost to a brand new, all-black color scheme and quieter keyboards, well … that's about all that has changed about this laptop. Is that enough to draw new users in or inspire you to upgrade to Surface Laptop 2?
We'll be better able to answer that question in a full review. Until then, we have some early thoughts on this revision.
Price and availability
Microsoft is asking for $999 (£979, AU$1,499) for the starting model of Surface Laptop 2, available for pre-order now and launching October 16. That comes with an 8th generation (Kaby Lake Refresh), quad-core Intel Core i5 processor, 128GB of of SSD space and 8GB of memory behind the same 13.5-inch, 2,256 x 1,504 resolution PixelSense display.
Of course, this can all be upgraded save for the screen, to Intel Core i7 processors, up to 1TB of SSD space and as much as 16GB of memory.
This pricing is in line with that of the first edition Surface Laptop with an Intel Core i5 processor inside, and also right there with leading competing laptops, like the Dell XPS 13. If you want this level of power from Apple, it'll be at least $1,799 (£1,749, AU$2,699) for the 13-inch MacBook Pro.
Design and display
Truth be told, so little has tangibly changed regarding the Surface Laptop design in its sequel. Yes, there is now an all-black color variant for Surface Laptop 2 that looks absolutely gorgeous and feels fantastic.
But, beyond that, this is essentially the same Surface Laptop as before, only much more powerful. It's just as thin and light as before, 0.57 inches (14.48mm) and 2.75 pounds (1.25kg), respectively. Even the display remains unchanged, which isn't necessarily a bad thing: it was an impressive screen to begin with.
Microsoft claims to have made the Surface Laptop 2 keyboard quieter than before, and we could vaguely tell during its New York City preview event. Yet, all else regarding the keyboard and touchpad remains untouched.
However, perhaps Microsoft hasn't iterated enough on the design. The second generation of this laptop is still without Thunderbolt 3 much less even USB-C 3.1. You're still stuck with a single USB 3.0 – yes, not even the traditional USB port supports the latest USB 3.1 standard – and a Mini DisplayPort.
Given the amount of real estate this laptop has to work with regarding ports, there's really no excuse for the Surface Laptop 2 to have as few ports as it does. Not to mention ports that aren't up to the latest standards.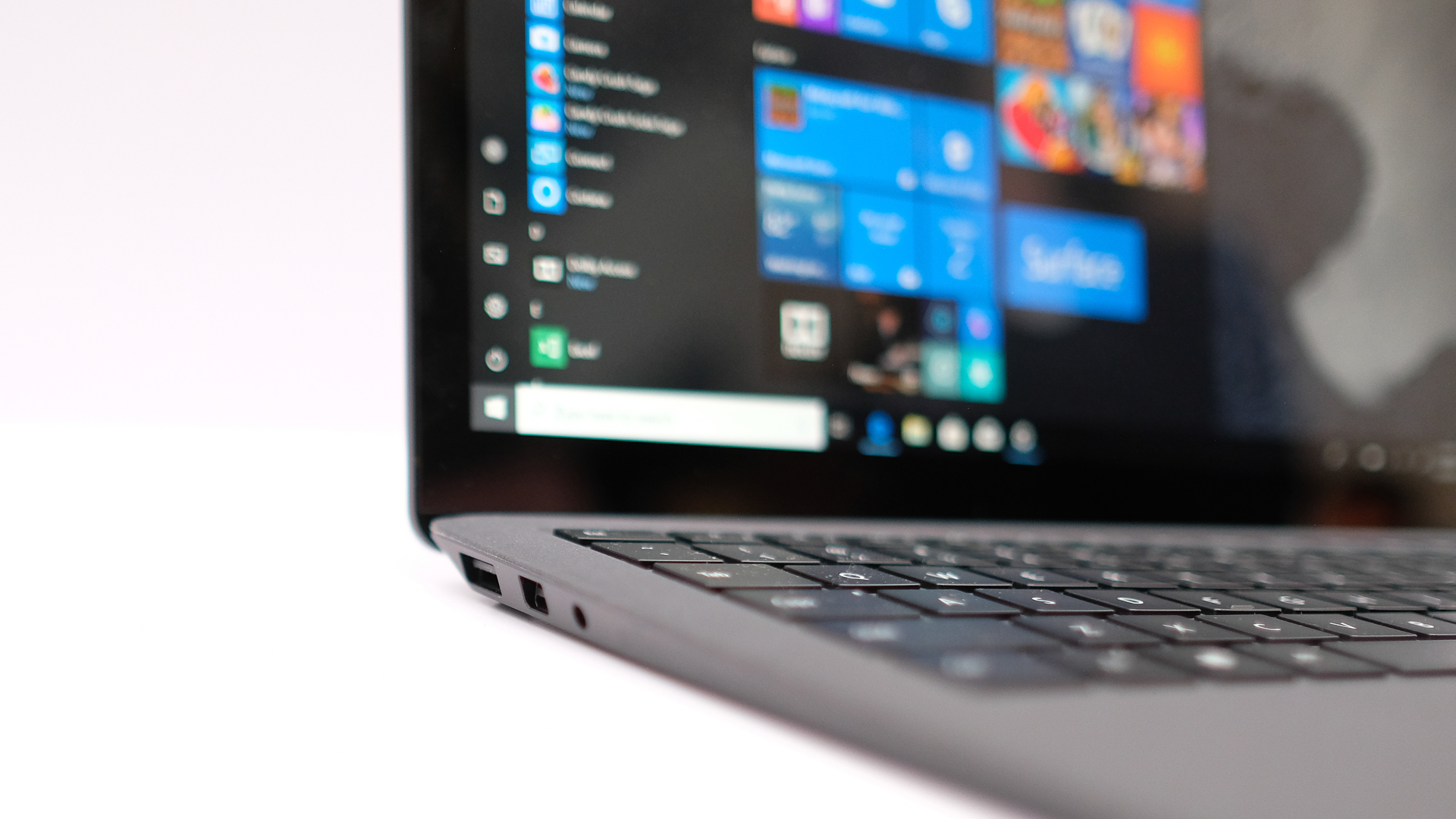 Performance
Of course, we can't outright judge the Surface Laptop 2 on performance we haven't tested, but it's important to set expectations and analyze what we can. Right off the bat, Microsoft promises an 85% boost in speed and performance over the previous generation.
That's a massive leap and a huge claim, much of which Microsoft can attribute to the introduction of Intel quad-core processing on laptop models this year. To put this into perspective, the Surface Laptop 2 will likely be about as powerful as the updated 13-inch MacBook Pro in certain tasks – save for graphics applications – for hundreds less.
However, Microsoft also says that it has completely redesigned the electrics within the laptop, which reduces the need for cooling fans to activate when the system is under load and therefore a reduced chance of throttling. Perhaps there's an explanation in this for how Microsoft is claiming the very same 14 hours and 30 minutes of battery life in spite of the power boost.
Finally, we're pleased to say that Microsoft has dropped Windows 10 S Mode from Surface Laptop 2, shipping with straight-up Windows 10 Home. It's one less step you need to take toward this being your ideal Windows laptop.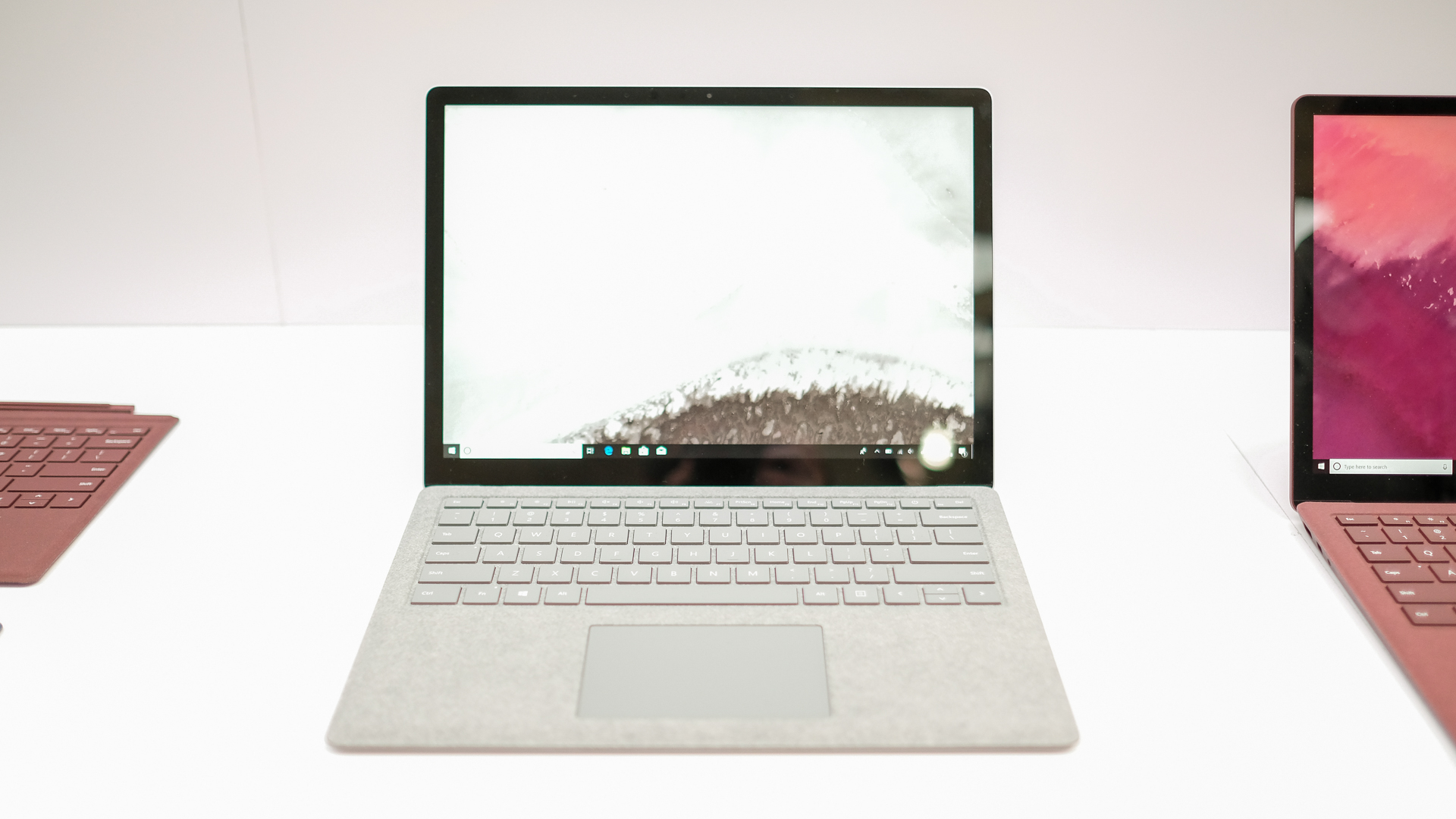 Early verdict
It's true that very little has tangibly changed about the Surface Laptop from year to year – unless you count quieter keyboards and a shiny new color pallette. However, the changes that aren't so obvious are the most impactful to Microsoft's only true laptop.
Surface Laptop 2 is now one of the most powerful laptops available for a comparable price, a price that blows Apple's offerings out of the water. Then again, this laptop still has too few ports for the real estate available, much less ones that are up-to-date.
At any rate, we're excited to give the Surface Laptop 2 a full review as soon as we can, if only to get more time with that gorgeous new color scheme.