Dell and Alienware have revived the 'm' brand of their thin and light gaming laptops at long last with the Alienware m15 gaming laptop. Before you ask, no, this is not an underpowered machine for the sake of portability.
Rather, this a new entry in the booming crop of Nvidia Max-Q gaming laptops … but seemingly aiming for a greater amount of mass appeal.
Thinner than an Alienware 13 and equipped with a full-size keyboard comparable to that of an Alienware 17, the Alienware m15 occupies a middle ground extremely well.
Price and availability
Dell wants $1,299 (about £995, AU$1,839) for the starting configuration of its Alienware m15 laptop. That setup nets you a 15.6-inch Full HD (1,920 x 1,080) display with a 60Hz refresh rate, driven by Nvidia GeForce GTX 1060 graphics (6GB GDDR5 memory) and an 8th generation (Coffee Lake) Intel Core i5 H-series processor.
In addition to that, you're getting 8GB of DDR4 memory as well as your choice between a 1TB hybrid hard drive with an 8GB SSD built in for faster system booting and app loading, or a straight 256GB SSD. From there, it's almost the sky's the limit when it comes to upgrades.
The processor can be upped to an Intel Core i7 model, while the graphics can be upped to GTX 1070 (8GB GDDR5) level. Likewise, the system can support up to 32GB of memory and as much as 1TB of SSD storage in several configurations including one with an Intel Optane module.
This laptop's display can be upgraded too, giving users either a 1080p panel with a faster 144Hz refresh rate or an Ultra HD (3,840 x 2,160) screen at the same basic 60Hz refresh rate.
Generally speaking, the entry-level version of this laptop is well in line with market norms, though we'd like to see both a bit more SSD storage and a faster mass storage option.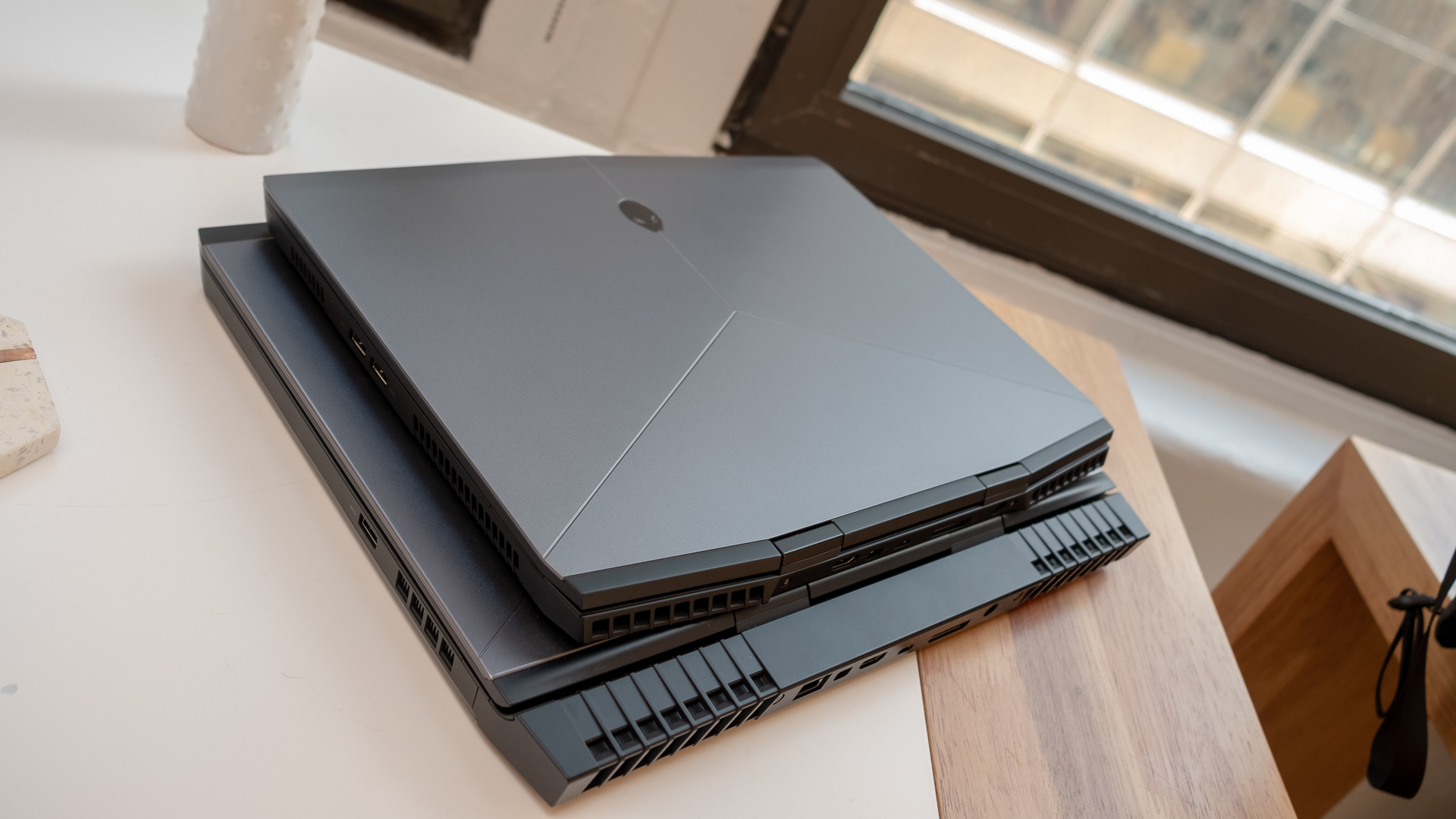 Design and display
If there's one thing Dell and Alienware want you to take away from the m15 is that it's an 'epic' laptop. Dell crafted the device using it's new 'Epic' design language, which is how all of today's Alienware laptops are designed. In short, it's the more streamlined appearance you may have noticed in more recent products from the brand.
Of course, you still get the aluminum lid plate with the Alienware logo illuminated by the firm's AlienFX RGB lighting system, which now illuminates just the keyboard, power button and three other zones in addition. The star of this show isn't the lighting or materials used, but the dimensions achieved.
Alienware has crammed a 15.6-inch display – one with the option of being either super sharp (4K UHD) or super fast (144Hz), but is crisp and vibrant regardless – into a 14.3-inch-wide frame, while somehow fitting a full numeric keypad on the keyboard deck. That impressive feat becomes even more so when you consider the laptop's height of just 0.83 inches (2.11cm) and weight of merely 4.78 pounds (2.17kg).
After some brief time with the laptop, we find the keyboard to be just as spacious as it has been on previous 17-inch Alienware laptops, not to mention just as punchy. Likewise, the touchpad works just fine in our experience, but bring along a gaming mouse regardless.
The most important thing to note about the Alienware m15's design is that it feels almost as if it would fit in any setting, which seems to be exactly the point. This doesn't have to be solely a gaming laptop given its portability, and its design communicates that intent.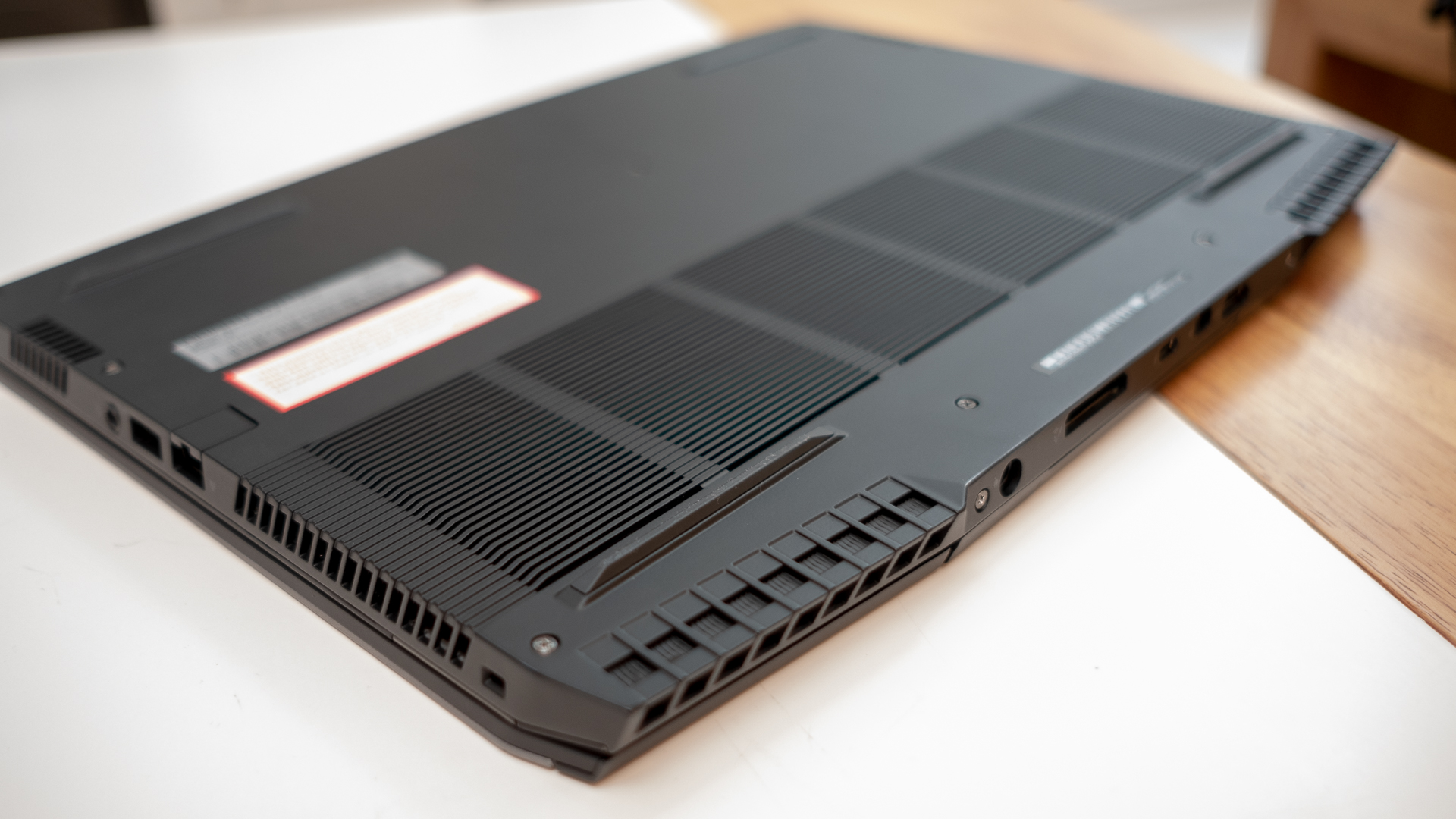 Performance
We can't make any hard claims regarding the Alienware m15's performance, but it's safe to expect benchmark results rather close to competing laptops with Nvidia graphics and the latest Intel processors inside. This means you'll likely be able to play the latest PC games on this laptop for another year or two before it begins getting seriously outclassed.
Of course, you could always boost this performance with Alienware's Graphics Amplifier GPU box, which still connects via the firm's proprietary port for such use cases, located behind the display in the laptop's base. Other ports include three SuperSpeed USB 3.0 ports, one Thunderbolt 3 (USB-C) port, HDMI 2.0, Mini DisplayPort 1.3 and Ethernet.
What's perhaps more important to discuss at the moment is Alienware's new approach to cooling, and the laptop's battery life. Alienware is laying claim to 'superior thermal management' with its Cryo-Tech 2.0 technology that apparently allows all components inside the laptop to run at their maximum potential.
If that's truly the case, then perhaps we'll see the m15 perform better than rivals with the same components inside.
Of course, being a portable PC gaming machine, longevity is a concern. The standard Alienware m15 holds on for up to 7 hours and 10 minutes with video playback, whereas an optional 90Whr battery can boost that up to 10 hours and 40 minutes. We'll be keeping a close eye on these claims in a full review.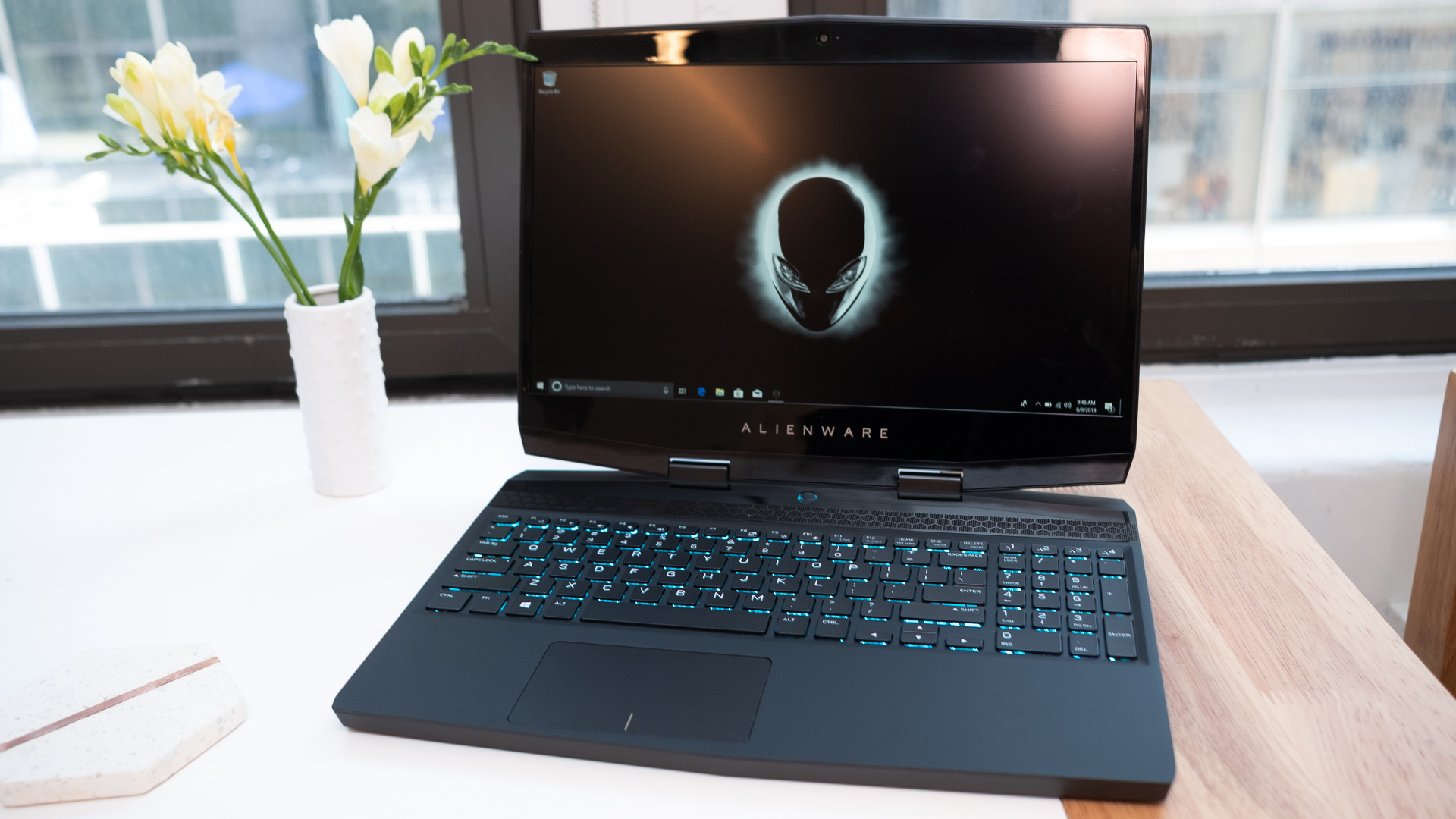 Early verdict
All told, we're very much impressed by the Alienware m15. It's not the most exciting gaming laptop when it comes to raw power, but rather it's exciting in its portability.
Game consoles like the Nintendo Switch may well have steered our expectations of other portable gaming systems since, even laptops. With that in mind, it's easy to get excited about a laptop that doesn't weight much more than our company-issued MacBook Pro and still can play the latest PC games extremely well.
Plus, the extra niceties, like a bevy of ports and a full-sized keyboard complete with number pad, broaden the laptop's appeal in tandem with a pared-down design. Keep it locked here for a full review of the Alienware m15 in the coming weeks.