With everything that it can do these days, we wouldn't be surprised if there was renewed interest in the Google Pixelbook. A true hybrid in every sense of the word, the Google Pixelbook has a lot to offer, both in compatibility and performance, that the similarly priced Chromebook Pixel never could.
Simply put, the Google Pixelbook is one of the best 2-in-1 laptops you can buy today, because it offers something that Windows devices just can't – it gives users a taste of Android, while maintaining the features and design of Chrome OS. And, if the rumors are to be believed, it may soon be able to dual-boot Windows 10, further increasing its utility. The Google Pixelbook also manages to pack in a ton of modern flair into a maturing, convertible form factor.
What's more, the sold-separately stylus further improves the Pixelbook experience, as it removes much of the headache you'd expect from using Android apps on a laptop. However, the fact that you can convert the Google Pixelbook into a tablet makes for another compelling reason to pick up this premium Chrome OS device.
On the surface, the Pixelbook looks like a Chromebook mixed with a Pixel C tablet, but the Google Pixelbook's specs are seriously impressive. With a 2,400 x 1,600 pixel display and 7th-generation Intel Core i5 and i7 processors, the Google Pixelbook is nothing to shake a stick at. And, as you'll soon see for yourself, it's backed by a modest price tag that puts Apple's similarly specced offerings to shame.
Price and availability
We're not even going to try and sugarcoat it: the Google Pixelbook is an extremely expensive Chromebook. It starts at $999 or £999 and capping out at $1,649 or £1,699 – without even counting the $99 (£99, about AU$128) Pixelbook Pen, though Google is generously throwing in a pen loop now for those in need of a place to put their styluses.
For that premium, you're also getting 7th generation Kaby Lake Intel Core i5 processors on both the entry-level 128GB option and $1,199 (£1,199, about AU$1,555) mid-range 256GB option, each paired with 8GB of memory. However, the top-end 512GB option comes packing a Core i7 processor with 16GB of memory. All of these processor options are Intel's low-power, low-heat Y series chips, which means all of the Pixelbook models are fanless.
In Australia, things are a bit different. You'll have only two options are far as spec configurations are concerned. The first will set you back $1,522, and it comes with a Intel Core i5 processor and 128GB of SSD space. The most capacious version of the Google Pixelbook in Australia, unfortunately, includes an Intel Core i7 CPU and 256GB of SSD storage. The latter model is priced at $1,804.26. And, unfortunately, because it doesn't seem like Google has released the Pixelbook officially in Australia, you'll have to deal with importing it from the US. Which will come with some hefty import fees.
Now, let's talk about how this holds up against this year's Samsung Chromebook Pro and Asus Chromebook Flip, both of which were designed in close conjunction with Google to jump start the firm's Android app push on Chrome OS. Both of these laptops are considerably less expensive, with Samsung and Asus' currently selling for $499 (about £375, AU$647) and $459 (£675, AU$899), respectively.
However, they're both markedly less powerful, containing the same 6th-generation Intel Core m3 processor that's similarly created for low power, and thus low heat, which allows it to take advantage of fanless chassis designs. That said, they're both beautiful Chromebooks in their own right, even if they offer considerably less memory and local storage.
At the end of the day, these two Chromebooks are a better deal for what the Chromebook platform is today, but that's not what the Pixelbook is about – it's about the future. The Google Pixelbook is to Chromebooks of the future what Microsoft's Surface line was to the 2-in-1 Windows 10 devices that followed it.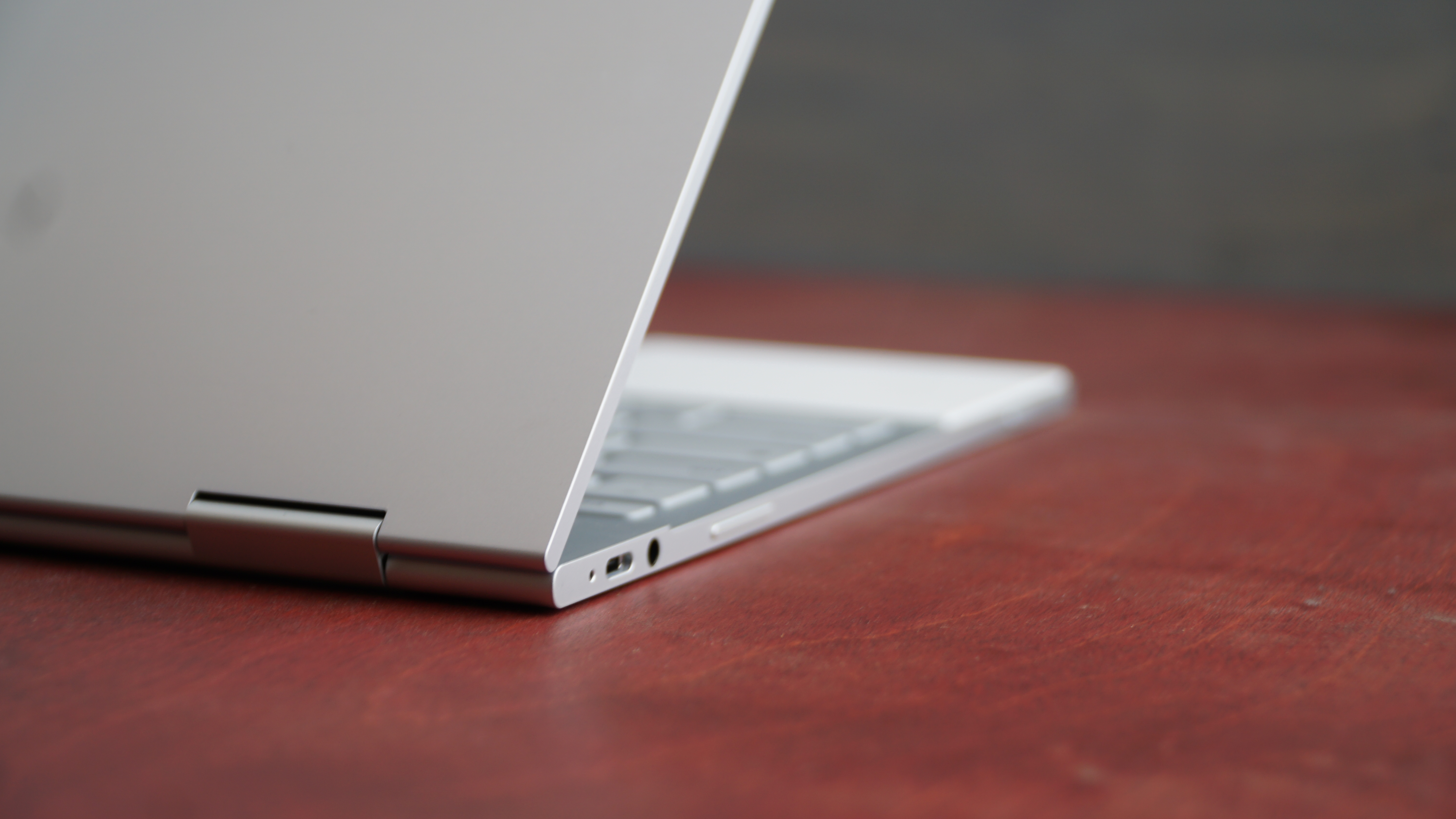 Design
The Pixelbook is clearly the beautiful result of years of work on Google's part in refining a unified design across its hardware offerings. But, the Pixelbook could also be seen as a sort of coming of age for Google's Chromebook design philosophy.
This is, without a doubt, Google's most attractive and well-conceived computing device yet. From the brushed aluminum frame with flush edges to the rubberized palm rest and underside, every design element has achieved style and substance in equal measure.
Of course, anybody who hasn't bought a laptop in the last few years might need some adjustment to get used to having just two USB-C 3.1 ports. But, at least it's ready for the future. Speaking of which, the webcam is equally prepared for an increasingly video-centric future with a 720p resolution and 60 frames-per-second capture rate.
Sadly, the same can't be said of the audio performance. As has become the growing trend in the thinnest and lightest laptops, Google crammed the speakers beneath the keyboard, and the result is awfully tinny sound. Luckily, there's a 3.5mm audio jack here that allows you to hook up the Pixelbook to external speakers or a pair of headphones.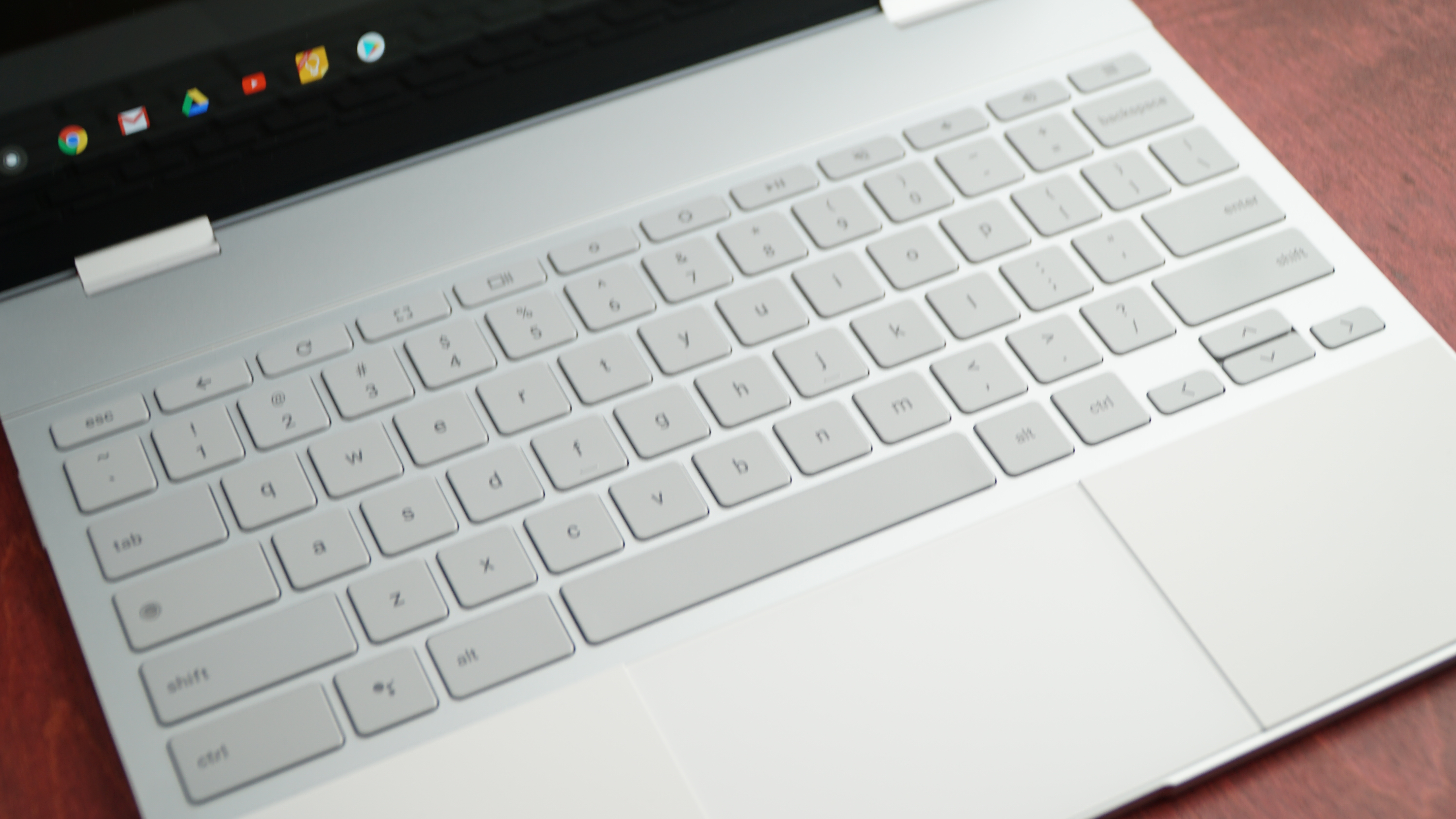 On the upside, the glass trackpad is a delight to use, tracking super smoothly and accurately both with single- and-multi-touch gestures. However, we found that the trackpad doesn't like us resting our thumb on the trackpad to click while tracking with our index finger – a common use case, but not this editor's personal preference.
Likewise, the Pixelbook keyboard is among the best we've ever tested. The backlit keyboard's keys are well-spaced, and the 0.8mm travel is a delight with forceful feedback. We also appreciate the subtle, deeply satisfying clicking sound the keys make – it's distinct from every laptop keyboard we've tested, and now we're going to expect it everywhere.
The 'Pixel' in Google's eponymous laptop earns its name when it comes to the 3:2 Pixelbook display. At 235 pixels-per-inch (ppi) and accurate color reproduction, this display rivals some of the best around, Chromebook or not, like the 267-ppi Surface Pro and 227-ppi MacBook Pro (13-inch).
The panel works well for movies and photos, not to mention photo editing. The 400 nits of brightness help hugely with this, but it's still a glossy screen and as such doesn't stand up to direct sunlight all that well. At any rate, the display is also sharply accurate to the touch, especially when underneath the Pixelbook Pen.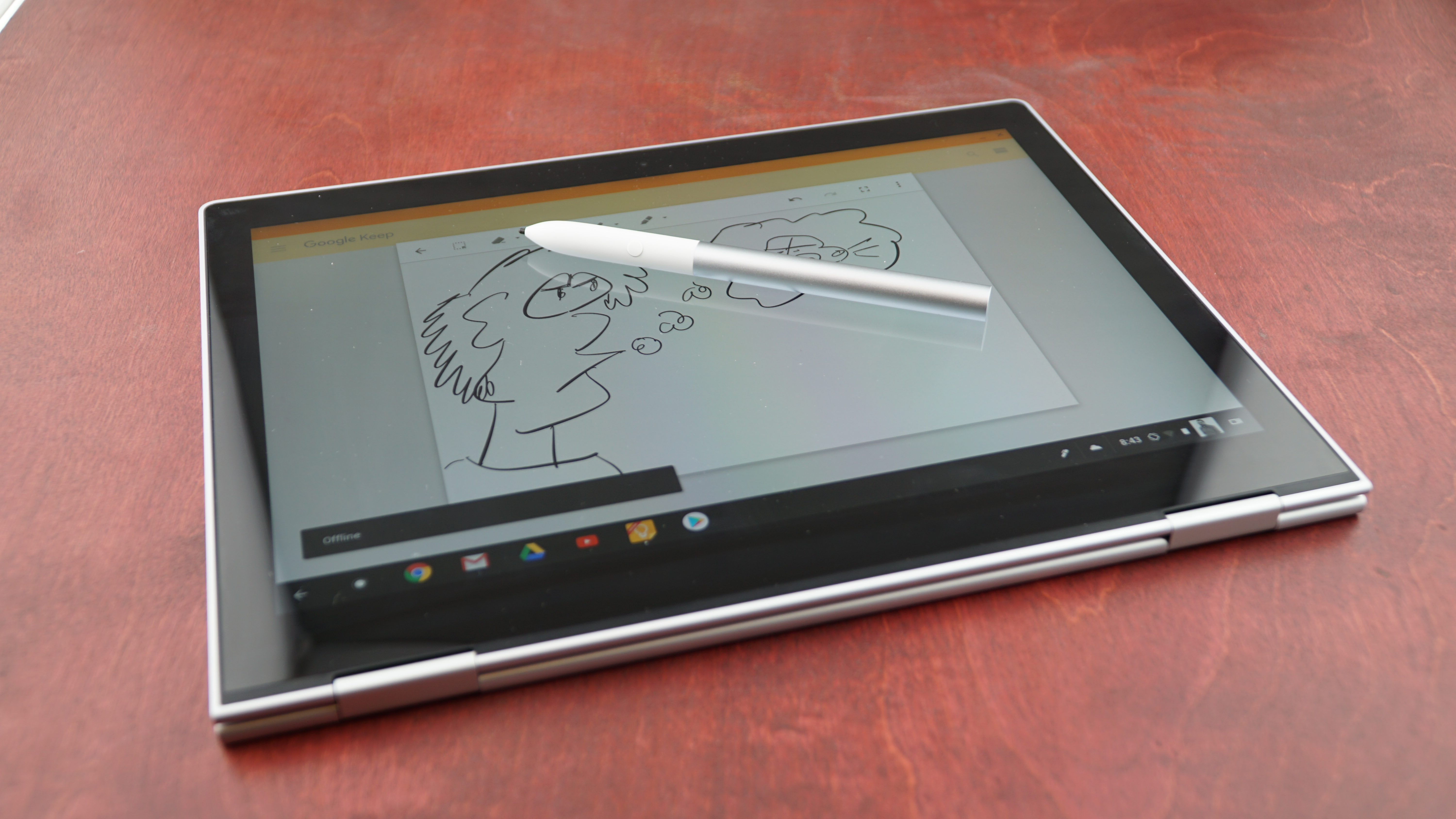 Pixelbook Pen and Google Assistant
First off, we'll just say that it's a damn shame that the Pixelbook Pen isn't included in the price of the laptop, as it's arguably crucial to the experience. However, we're not about the say that the stylus isn't worth the price of admission, because it 100% is worth it – if you can spare it.
The Pixelbook Pen works excellently as a stylus, offering plenty of pressure response as well as tilt support, making drawing on the display a pleasure. The display's snappy response helps the digital ink follow close enough behind the pen that any delay is imperceivable.
On the Pixelbook Pen sits a single button which is essentially a Google Assistant button, but also seems to incorporate some of the new Google Lens technology found in smartphones, like the Google Pixel 2. Pressing the button while inking turns that ink into a thick blue, but doesn't actually draw anything.
Instead, anything captured inside this blue ink is sent to Google Assistant for analysis, which in turn presents anything and everything Google's servers can muster about whatever you encircled. Circle a picture of a hippopotamus, and Google Assistant will hit you with a Wikipedia page on the animal. In fact, Google's knowledge graph runs so deep that we circled a picture of Office Space's Ron Livingston, and Google Assistant spat back his character's name – Peter Gibbons – before telling us more about the actor.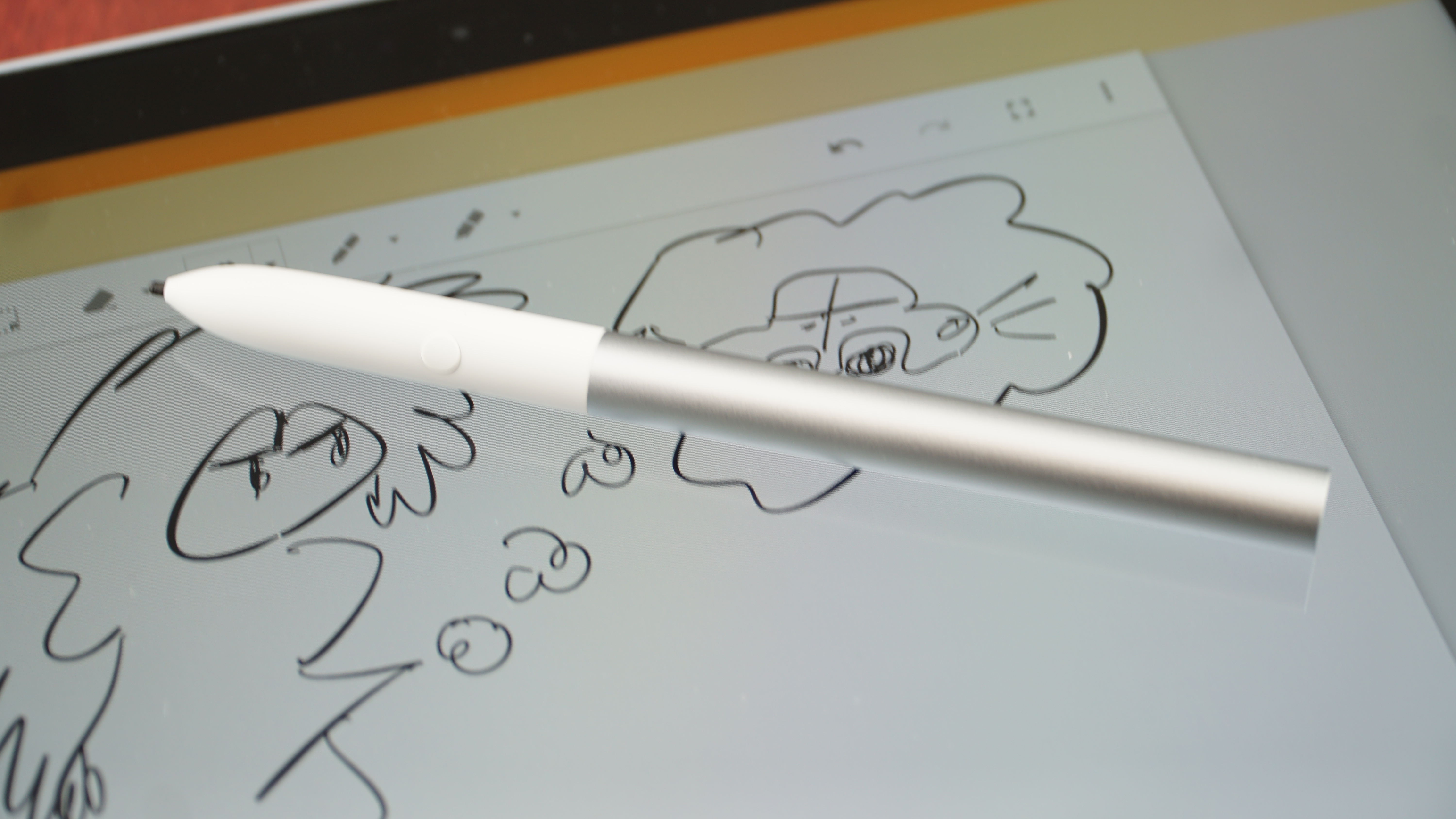 This will be an incredibly powerful tool for students, particularly, but users in general will benefit. 
Another plus regarding the Pixelbook Pen is that it's opened up Google Keep to support pen input, even from the lock screen, making note-taking that much easier. There are even apps that can transcribe the Pixelbook Pen's scrawlings into traditional text.
However, one huge flaw in the Pixelbook Pen is that it doesn't attach to the laptop in any way, not even via magnets, like the Surface Pro. This oversight makes it that much easier to lose this stylus that cost you so much money. Plus, it runs on AAAA batteries, whereas a rechargeable solution would've been much more worthy of the price tag.
As for Google Assistant, the service can be accessed either through a dedicated keyboard button or via your voice, if you don't invest in the Pixelbook Pen. Though, the latter only works when the laptop is logged into – waking the Pixelbook with a 'Hey, Google' command is in the works, we're told.
In general, Google Assistant is just as helpful as it is on smartphones and renders in the exact same way, with an OS-level chat record as well as a voice response.
First reviewed October 2017
To say that the Google Pixelbook is a strong performer isn't going to surprise anyone, but that is exactly the case. Honestly, we wouldn't accept anything less from such an expensive Chromebook, especially considering how lightweight of an operating system Chrome is.
The Google Pixelbook handles our entire workload through the Chrome browser – from Google documents and spreadsheets to Slack chat and even Lightroom photo editing – without a hitch. It's impressive given how traditionally RAM-hungry the browser is, but in Chrome OS there seems to be way more headroom in that regard than with, say, Windows 10 or macOS.
Naturally, the Pixelbook is going to outperform Samsung and Asus's latest premium Chromebooks on browser benchmarks, but that's neither here nor there. Frankly, you're not going to see much of a performance difference between the three in real-world use – perhaps that's testament to just how well Chrome OS works with low-power hardware.
Battery life
As for how long the Pixelbook will last, expect shorter longevity numbers than you're used to seeing on lower-power Chromebooks. Google promises the Pixelbook will last 10 hours on a single charge, a number that was reached based on 'a mix of standby, web browsing and other use,' according to its product page.
In our TechRadar battery test, which sees the device loop a locally-stored 1080p movie at 50% screen brightness and volume with the keyboard backlight and Bluetooth disabled, the Pixelbook lasted for 7 hours and 40 minutes. That's impressive in its own right, but the Samsung Chromebook Pro lasted 8 hours and 43 minutes on the same test, while the Asus Chromebook Flip lasted a whopping 10 hours and 46 minutes.
We'd say the difference in battery life between the two devices lies in them both running low-power Intel Core m3 chips that consume battery life slower, as well as the Chromebook Flip's lower-resolution panel. Regardless, we still expect the Pixelbook to last longer during real-world use – plus, it outlasted the Surface Pro and 13-inch MacBook Pro by 50 minutes and over an hour, respectively. Not to mention that just 15 minutes hooked up to an outlet gives you up to 2 hours of use, thanks to USB-C fast charging.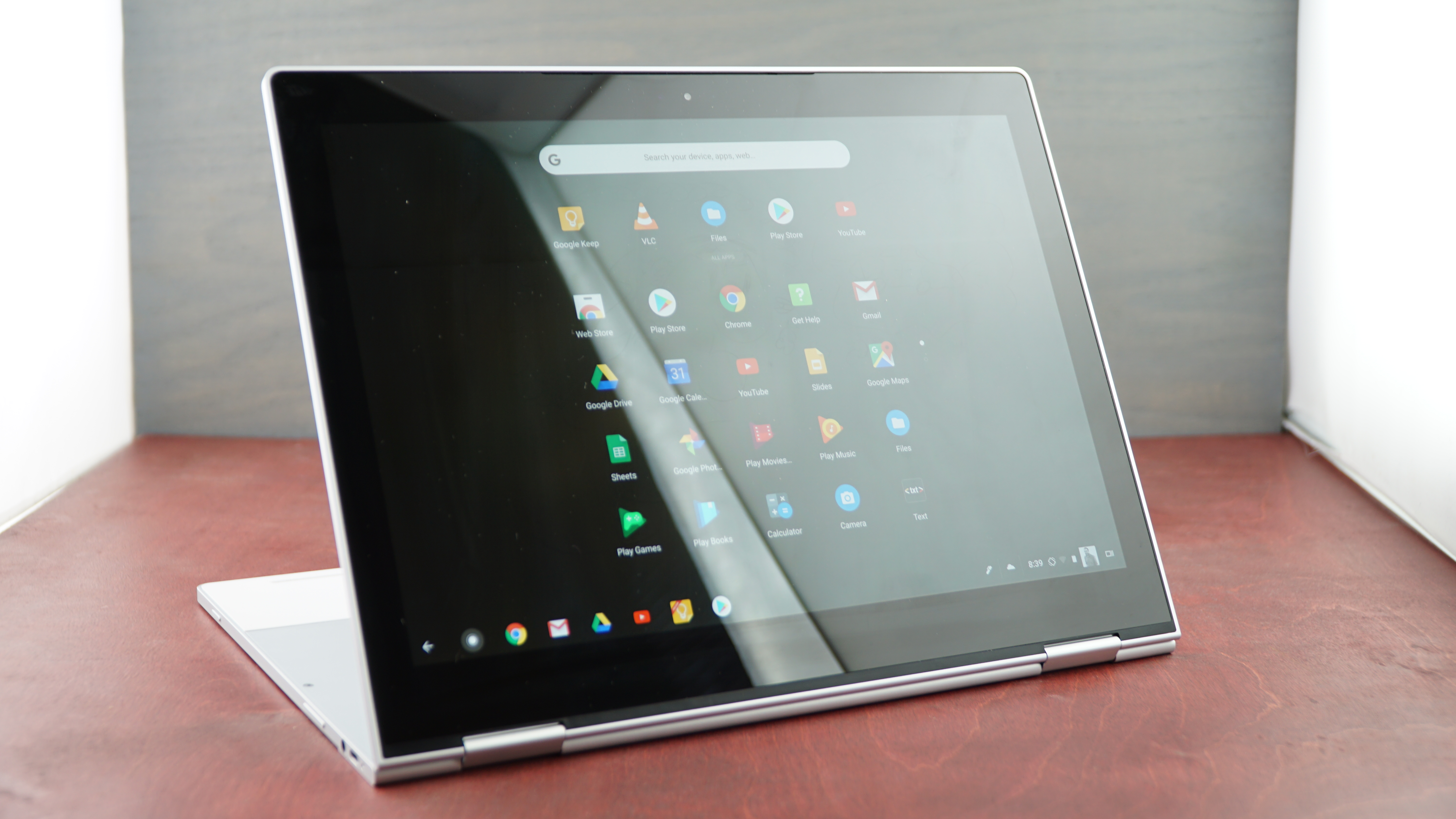 Full-blown Android on a Chromebook
Perhaps the most marquee feature of the Pixelbook is its wholecloth support of Android apps and the Google Play store, not to mention the brand new launcher interface to access these apps. That's right, after several public attempts through none other than Samsung and Asus, we finally have the promised Chromebook that can run Android apps.
The result is, frankly, impressive and testament to Android's vast versatility. Every Android app we've downloaded, from Sonic the Hedgehog to the VLC video player, works without issue and looks beautiful beneath the pixel-dense display. Of course, there are some compatibility quirks in that some configuration windows render as if they were on a smartphone, but that's more dependent on the app developers than Google.
This is where the masses of local storage start to make much more sense than they ever did on previous Chromebook Pixel models: you're going to need a place to store all of these apps and the files they'll interact with.
Naturally, Google also needed a new interface through which to access all of these apps, and that's where the new Chrome launcher comes in. Accessible through a key that has replaced what would otherwise be 'Caps Lock' as well as a circular button on the taskbar-like 'shelf', this tool allows you to search through all installed apps as well open apps with a screen tap.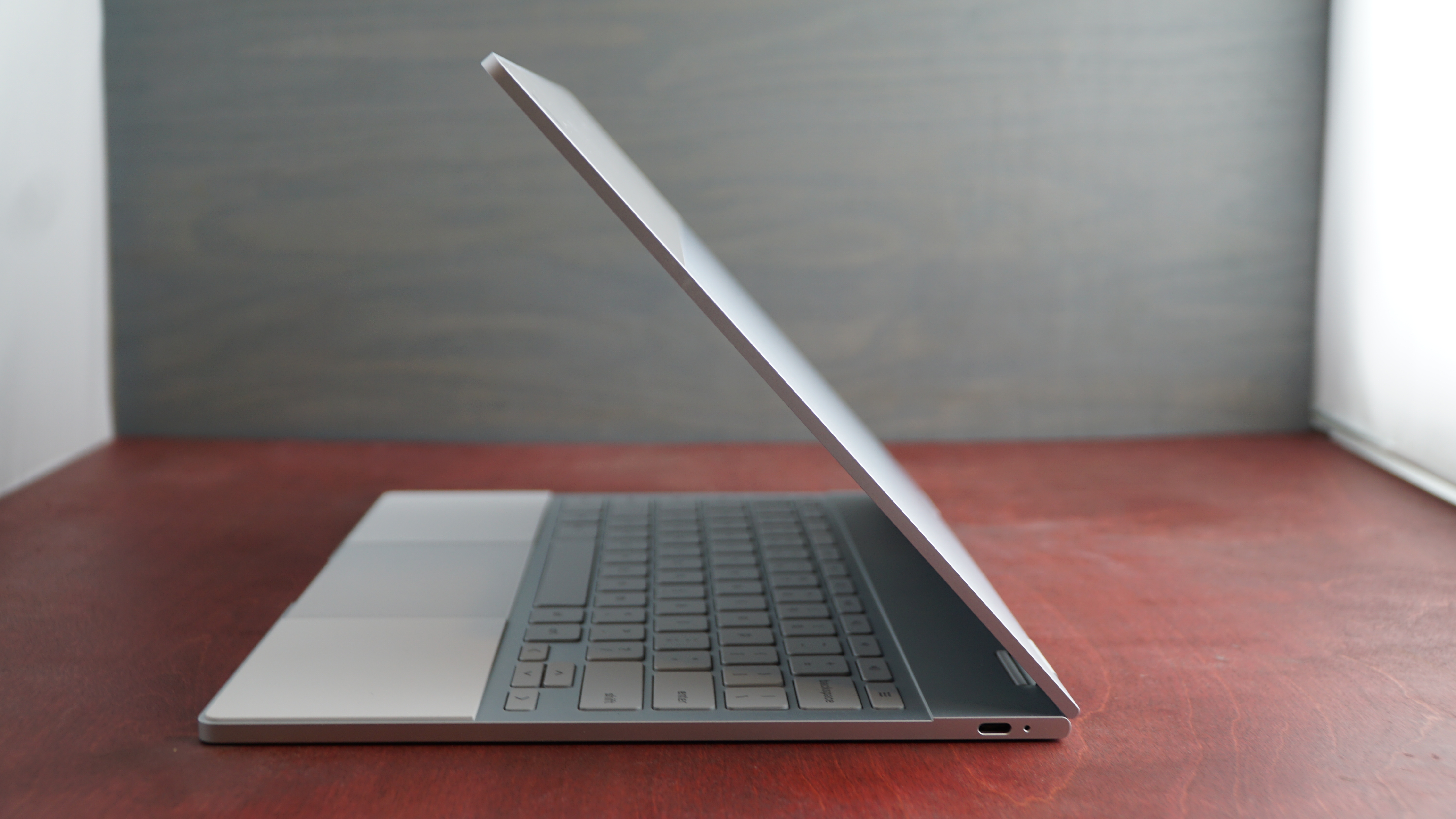 (Don't worry, the 'Caps Lock' function can be accessed by holding the 'Alt' key and pressing the launcher button.)
Ultimately, this level of Android app support stands to blow Chrome OS wide open, effectively eliminating its dependence on the Chrome web store for app-like experiences. It brings the operating system far closer in capability and versatility to that of Windows 10 and macOS, essentially making what was a thick line between much, much thinner.
Most importantly, we're now at last at the point where there are little to no compromises for almost anyone to switch from a Windows or Mac machine to a Chromebook, thanks to Android. That possibility starts with the Pixelbook.
We liked
The Pixelbook is arguably the most gorgeous Chromebook to date, and indisputably the most versatile. We're huge fans of the vibrant, responsive display as well as the slick trackpad and sublime keyboard. Plus, the rubberized segments of the frame make using the Pixelbook in its tablet orientation much easier. Finally, Android app support massively upgrades Chrome OS.
We disliked
For one, this isn't just an expensive Chromebook, but it's an expensive laptop – period – especially considering the low-power processor inside compared against similarly-priced competitors in the Windows and Mac camps. On a related note, we take issue with the Pixelbook Pen being sold separately, given how crucial it is to the experience and how easy it is to lose. Also, the audio takes a nosedive in the name of thinness and lightness. Finally, for the price, we would've liked a biometric login option, like all high-end laptops offer today.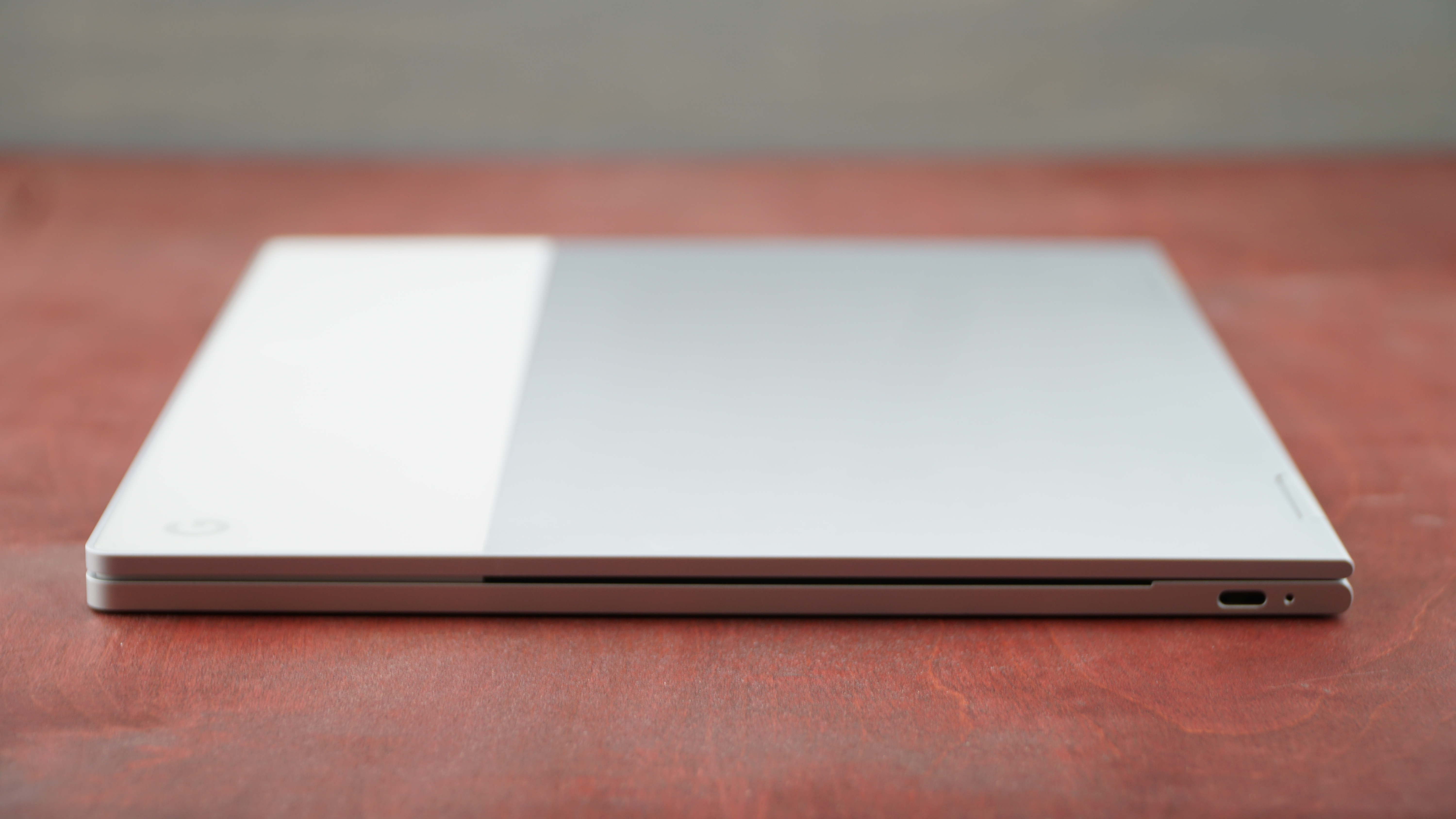 Final verdict
While we've compared the Google Pixelbook here to rivaling premium Chromebooks for what should be obvious reasons, we could have just as easily put it up against the Surface Pro or even MacBook Pro. That should speak volumes as to how impressed we are by the Pixelbook, and how far Google has taken the Chromebook platform since its inception.
The Google Pixelbook is the first Chromebook worthy of consideration alongside the most high-end Windows and Mac laptops and 2-in-1 devices. That alone should tell you everything you need to know about the Pixelbook: this is the best Chromebook to date, bar none.
That said, this is definitely not the Chromebook you're likely used to. If you were expecting an affordable laptop that the Chromebook name has become synonymous with, there are plenty of places to look elsewhere. If you want to get in on ground level of what very well may be the future of Chromebooks in the premium space, look no further – you won't be disappointed.