Intel's recent processors have been a step behind the high-core count, massive multi-threading performance of AMD Ryzen CPUs for some time now, but now Intel Core i9-9900K looks to level the playground.
Team Blue's first-ever mainstream Core i9 chip comes equipped with 8-cores, 16-threads and the ability to boost up to a maximum 5.0GHz speed. All told, this looks like the most powerful processor ever made for consumers.
Pricing and availability
The Intel Core i9-9900K will sell for $488 (about £370, AU$690) and that's quite a price bump from Intel's previous flagship processor, the Intel Core i7-8700K, which went for $359 (£389, AU$524) at launch.
Intel's first mainstream Core i9 chip also looks exorbitantly expensive next to the $329 (£299, AU$469) AMD Ryzen 7 2700X, which features the nearly the same specs on paper and comes with a premium RGB CPU cooler in the box.
Features and chipset
Not only is the Intel Core i9-9900K one of two of the company's first mainstream octa-core processors – the other being the Intel Core i7-9700K – it also features the highest 16-thread count in the Coffee Lake Refresh lineup. This should translate to hyper-threading performance, which could finally outpace AMD's rival processors.
Speaking of AMD, the AMD Ryzen 7 2700X also features 8-cores and 16-threads with base/boost clocks of 3.7GHz and 4.3GHz, respectively. Intel's new Core i9 chip, on the other hand, is rated to start at a 3.6GHz base frequency and boost to 5.0GHz with a single core, or 4.7GHz with six-to-eight cores.
The most impressive thing about the Intel Core i9-9900K is that it integrates 8-cores, 16-thread and 400MHz higher clock speeds into chip with the same 95W thermal package.
One other little tidbit we're extremely excited about with Intel's new line of processors is that they all feature a soldered integrated heat spreader (IHS). This new soldered-based thermal interface material should help immensely with heat dissipation and achieving higher overclock speeds.
Unlike Coffee Lake, users won't necessarily have to splurge on a new motherboard just to install this Core i9 chip. The Intel Core i9-9900K will be fully compatible with existing Z370 motherboards. The only thing Intel's new Z390 platform brings is USB 3.1 Gen 2 support for 10Gbps data transfer speeds through traditional full-sized USB ports and integrated 802.11ac Wi-Fi 5 for gigabit wireless speeds.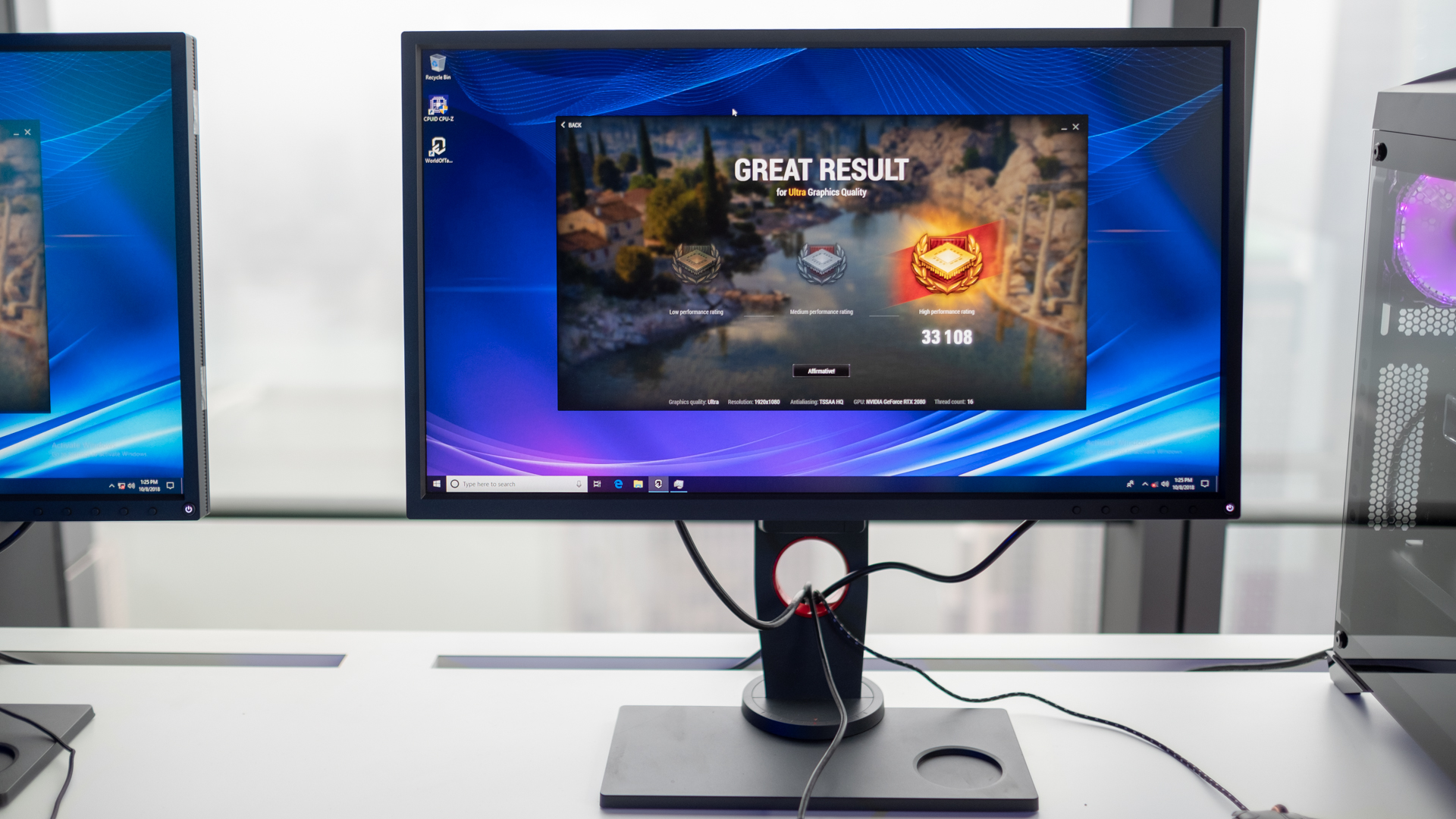 Performance
Unfortunately, we weren't able to benchmark Intel's new mainstream Core i9 CPU with our usual suite of tests. However, we can tell you the Intel Core i9-9900K paired with a Nvidia GeForce RTX 2080 achieved a score of 33,108 in World of Tanks Encore's benchmark test.
We also got to game a little a PUBG at 1080p and Ultra quality settings, and experience the game at a glorious 175fps.
At another demo station, we were show how users can possibly use the processor to play PUBG and World of Tanks Encore at the same time. Now this isn't what we would call a traditional PC. Instead what Intel did was take a PC equipped with Intel Core i9-9900K system paired with 16GB of RAM, two Nvidia GeForce RTX 2080 two distinct virtual systems, and split it in half with On Raid to create two virtual PCs each featuring a 4-core, 8-thread PC with only one RTX 2080 and 8GB of memory.
Despite having only roughly half of its available processing power, the PC still performed admirably playing PUBG at a consistent 80fps at 1080p and Ultra quality settings. Meanwhile, World of Tanks Encore was running at the same settings and at a steady 100fps.
Obviously, this isn't something anyone will likely do with their own PC, but its impressive nonetheless.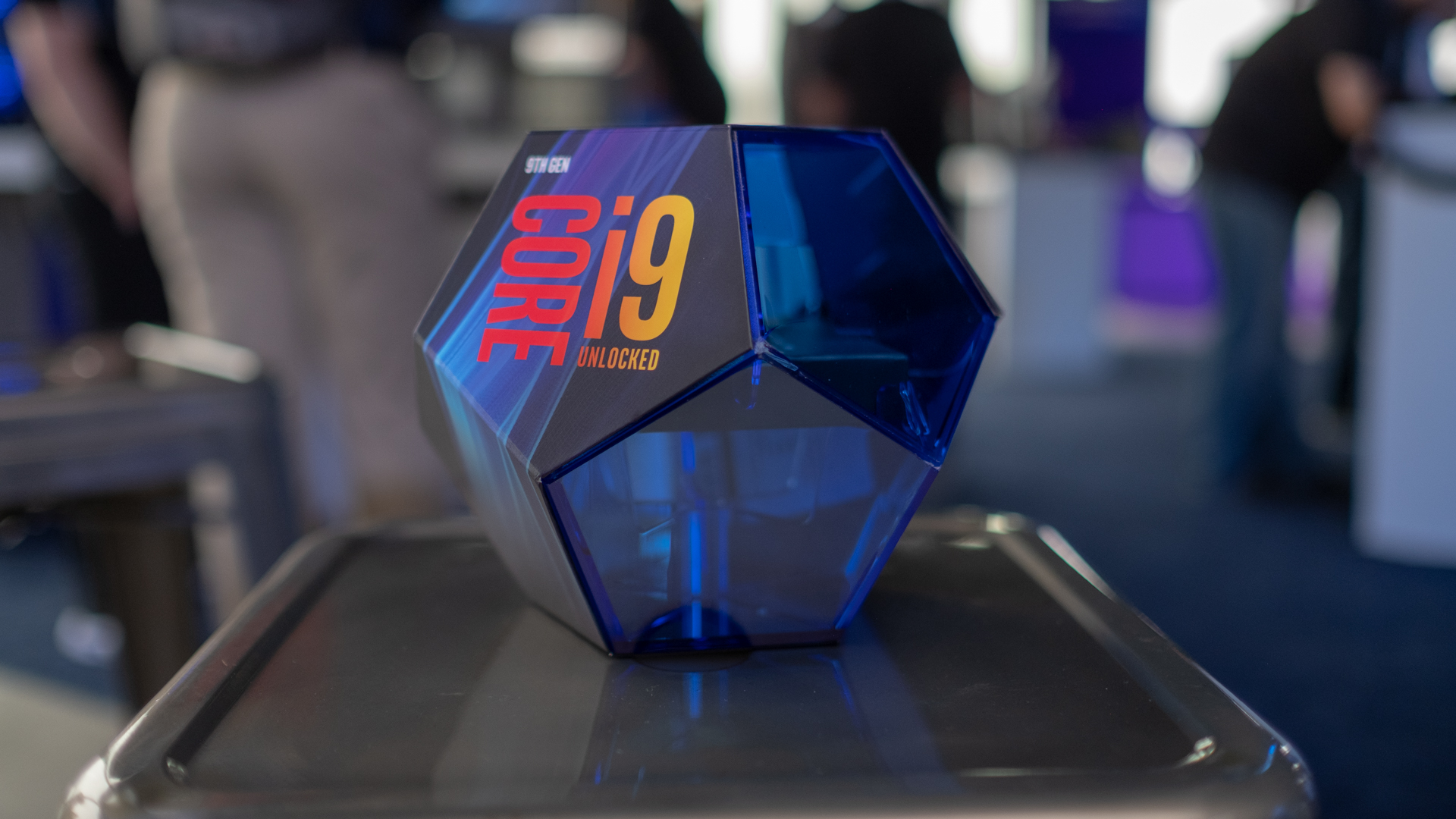 Early verdict
Intel might be late to the game with its first mainstream octa-core processor, but the Intel Core i9-9900K is an impressive debut. These are the biggest specs we've seen on a mainstream Intel processor while maintaining the same thermal design power (TDP) envelope as its predecessor. The reintroduction of a solder heat spreader should amount to a cooler-running chip, something we really look forward to testing.